Monthly Archives:
June 2018
5 Reasons Death Cleaning is the Latest and Greatest Way To Live Your Life
I remember being about eight years old, standing in front of my grandmother's glass  case, mesmerized by her collection of bells. She had small, delicate bells with pictures of birds or states on them and larger brass bells that could barely fit in the palm of my hand when on special occasions she let me open the glass door and take out a few. Each had an individual ring that tickled my ears and the time flew by as I examined each one, wishing to hold them all and make them sing.
"Choose your favorite one," she said. "It will be yours one day when I'm gone."
Decades passed by, my grandma's bell collection gathered dust in that glass case, and she got dementia in her later years. When she died, her children cleared the house and the bells were tossed in a box and donated. I never got the special bell that I picked out with her that day.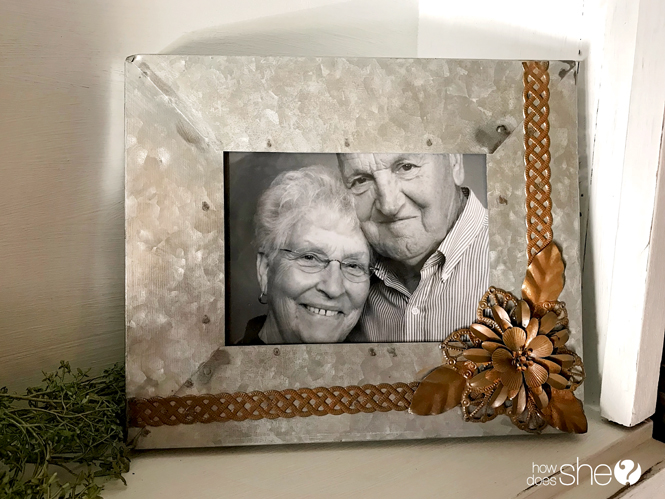 5 Reasons Death Cleaning is the Latest and Greatest Way To Live Your Life
Death cleaning sounds terribly morbid, but really it's a wonderful way to organize your home and live your life.
Derived from the Swedish term dostadning (meaning death and cleaning), it's a way to declutter your life and organize your home with your death in mind. Basically, what is important and what is not? What serves a purpose and what does not? It's a way of living that saves your loved ones from having to rummage through your stuff, trying to determine what is special and what is junk. It's a good mindset to adopt now because, after all, none of us knows when we will die. Here are five reasons death cleaning is pretty cool.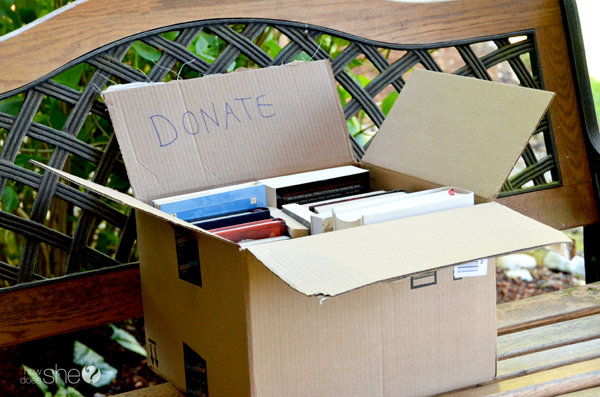 1. It discourages you from collecting things you don't need.
For most of us, it's a safe bet that we have too many things in our home. From kitchen gadgets, to over-flowing holiday decorations that only come out once a year, to clothing that we might wear again some day.
I recently visited an estate sale where the deceased owner had over 20 staplers. No one can use that many staplers! With the Swedish mindset of death cleaning, you stop buying in excess. Have what is needed and nothing more.
I'm sure the last thing that homeowner is thinking about right now are the staplers he left behind.
2. It encourages you to let go of things that aren't important.
Along that same thread, death cleaning your home means going through each room thoroughly and eliminating things that aren't important. Sort through your gadgets and winnow out the ones that don't have a purpose or bring happiness. It's very similar to Marie Kondo's The Life-Changing Magic of Tidying Up. You can declutter your life by sorting through the things that spark joy and the ones that do not.
If you're helping a loved one do this, be sensitive by suggesting that this type of decluttering will make the home more enjoyable for your loved one to live in and for family to come visit. Take the opportunity to share stories and memories and let them know that your memories aren't tied to the objects they own.
3. Ask y0urself: Do I want my loved ones to deal with this?
The purpose of death cleaning is to save your loved ones the stress and difficulty of cleaning up your excess. No matter what age you are, ask yourself when facing a particular closet or bedroom: Would I want my loved ones to have to deal with this? If the answer is no, then make a plan to start eliminating/sorting/cleaning now.
This can get overwhelming, so tackle one space at a time, whether it's one drawer or one shelf. Work methodically and consistently. Death cleaning isn't a one-and-done thing; it's an ongoing process, or rather, a frame of mind.
4. Don't wait until you're dead to pass on your special things.
I often wonder why my grandmother didn't just give me my special bell then, in those few precious minutes we shared. It would have been the perfect moment.
The one thing I love most about Swedish dostadning is the idea that you give your special possessions to your loved ones while you are alive. Don't wait. My grandmother's bells brought her  the most joy when she shared them with other people. Other than that, they just sat on a shelf. Don't wait until you are dead to pass on your special things—if the time is right, find happiness in sharing them now.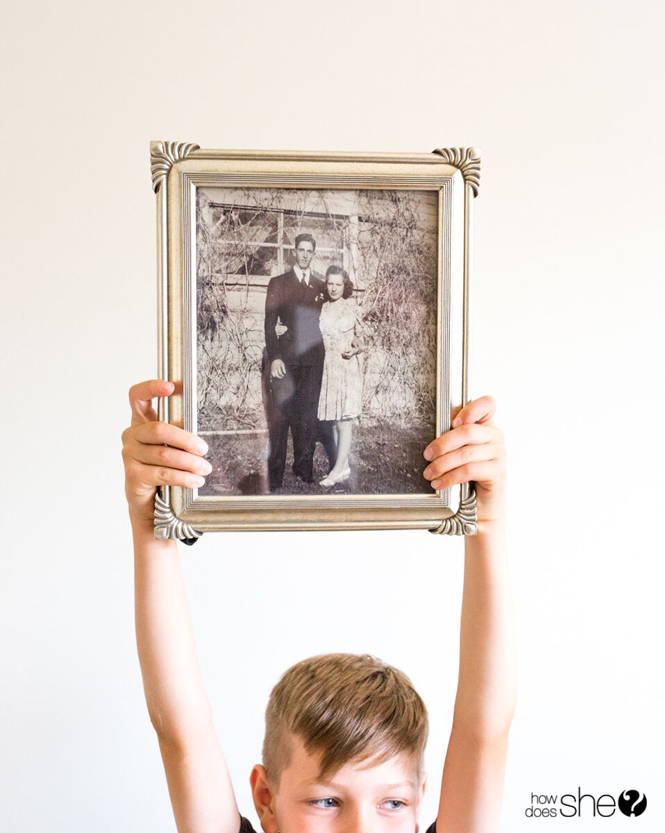 5. Death cleaning reduces stress and increases productivity.
A recent UCLA study found that women especially experience spiked stress hormones when a home is cluttered. Living in chaos affects your mood, outlook on life, and in some cases, your health. Elderly people can trip over clutter and injure themselves, sometimes with no way of contacting help.
Take a few notes from the Swedes and try death cleaning. It is a new way of looking at a normally banal chore that both young and old can benefit from.
For a good read on the subject, check out The Gentle Art of Swedish Death Cleaning by Margareta Magnusson.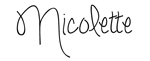 The post 5 Reasons Death Cleaning is the Latest and Greatest Way To Live Your Life appeared first on How Does She.
Learn How To Easily Stencil Floor Tiles!
We are so excited to be welcome our guest, Angela Rose, who is here to show us how to easily stencil floor tiles – have you ever thought about trying something like this? Angela shares her awesome home projects on instagram @angelarosehome so go follow and see even more stunning ideas!
I stencilled my floor tiles!
Do you have plain boring tile on your floors, fireplace, backsplash, or stairs? So did I…and I decided I was tired of waiting and saving for a big renovation, and I wanted to DO something about it. So for under $100, I STENCILLED my bathroom tile floor, and I am in love how it looks!
You can totally do this too, and I'm going to give you all the details so we can get rid of lame beige tiles forever!
ORDERING THE STENCIL
First you need a tile stencil. I used this AMIRA stencil from Dizzy Duck Designs UK etsy shop. They have so many cute patterns to choose from, and you can even special request to have it cut the exact size of your tile. Make sure to measure your tile exactly (to the 1/16 of an inch even)!
To visualize what colors and combination I wanted to use, I tested out different options on spare tiles (you could also use cardboard). 
SURFACE PREP
Tile preparation is very important in order for the paint to stick, so don't skip this step! I thoroughly cleaned my tile, used liquid de-glosser, and also sanded it with 120 grit to take off sheen and rough it up a bit. For floors, you can also use Zinsser 1 2 3 Primer for added durability.
Next, I took blue painters tape and taped off everything. And now you're ready to paint!
Tip: You can use a blow dryer like a mini leaf blower to blow away tiny debris on your floors to keep them clean.
PAINTING YOUR TILE

Start by painting your tile the base color (I used Rustolem Chalked Paint in Aged Gray). I used a high quality paint brush and only needed one coat, but you can do more if needed.   Allow to dry completely.
Now here comes the fun part! Tape your stencil down with painters tape, and use a high qualify foam roller to roll on THIN coats. Roll off excess paint onto a paper towel. This is important! A thick application will bleed under the stencil, whereas thin coats make nice clean lines. I applied 2 coats of Rustoleum Chalked Paint in White Linen for the stencilled parts. 
Tip: In between coats, you can use a blow dryer on the cool setting to speed up the drying process. Purchasing 2 stencils would also help speed up the process.
Move the stencil to different tiles making sure to not overlap with any wet parts. Once you complete all the square tiles, move onto the edges and tricky areas. This is where you get a little creative! To get these areas I bent the stencil up against walls, cut the stencil down to fit in smaller areas, and also used painters tape to do places where I couldn't fit the stencil.
Finally, I took a small paint brush and touched up all the edges and places where it didn't look perfect. A little time consuming, but totally worth it (I was also glad that I had really cleaned my toilet as I was really up close and personal with it!).
SEALING YOUR TILE
Sealing the tile is easy! I applied 4 coats of Polycrylic in satin with a high quality paint brush (with a light sanding between coats).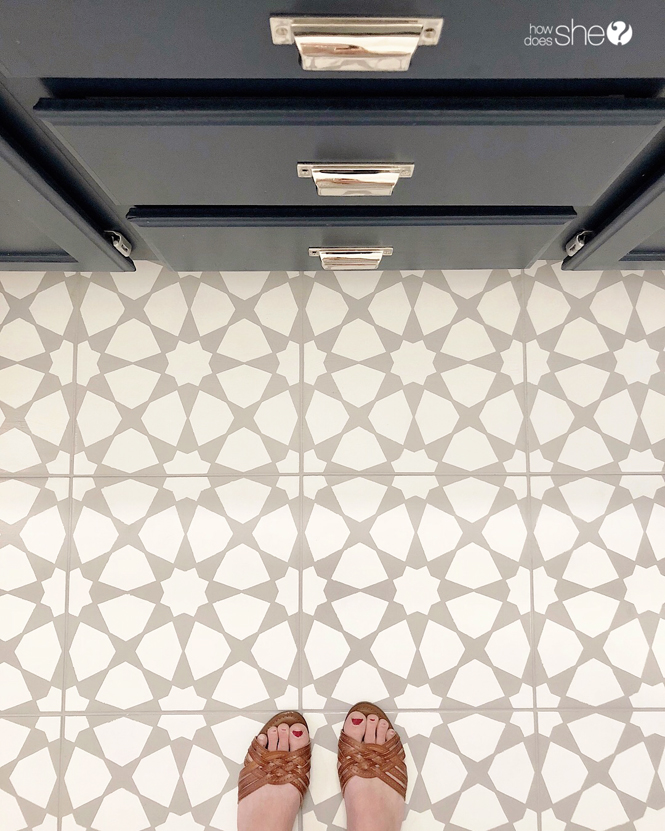 ADMIRE YOUR STENCILLED TILE
And that's it! A perfect solution for revamping that boring tile, and an affordable way to get a custom tile look without the custom tile price tag. 
Here is the supply list and cost breakdown of the project:
AMIRA stencil: $39.21

*could also use Behr Porch & Patio Floor Paint

High quality paint brush

High quality foam rollers

Small paintbrush for touching up edges

Sander Deglosser

Sander/Sandpaper 120 grit

Blue Painters tape
Thanks for checking out this fun project with me! To see more of my home projects, follow me @angelarosehome. See you there!
The post Learn How To Easily Stencil Floor Tiles! appeared first on How Does She.
Adventure in a Box: The Perfect Gift for Fathers
Somewhere along the way we grow up.
Fort building and tree climbing are replaced with jobs and responsibilities.  We loose interest in play and using our imagination. We find it difficult to live in the present moment as we let the worry and planning consume our mind. But what if I were to tell you that inside each of us is an inner-child just waiting to come out and play.
Albert Einstein once said, "Imagination is more important than knowledge. Knowledge is limited. Imagination encircles the world."
 Kids get that.
They live in the moment, create, explore, and pretend. They see their world with wonderment and excitement. Why is it that we don't take the time to do the same?
This year instead of socks, ties, or tools, I have decided to tap into my inner child and give something a bit different.
I call it, "An Adventure in a Box."
I grabbed this bin that looks like a treasure box and filled it with these items which  most of them I picked up either at the dollar store or the dollar section at Target. Get creative… those ropes you see are actually jump ropes that I cut the handles off of. And that treasure map is a scrap piece of wrapping paper with burned edges. And those marshmallow launchers are made out of a PVC pipe and cost under $2.00 to make. Nothing too fancy here folks. Anything goes.
Looking through my counselor goggles, I can't help but think about all the benefits that a child and parent can receive by adventure playing.
Allowing the child to take part of the journey and the story helps them feel like they have a voice and their ideas matter. I encourage parents to let kids take the lead during play as much as possible.
Not having a plan fosters imagination and being able to be in the moment. As adults we could use practice in setting aside the to-do lists and taking it moment by moment.
That's what an adventure is all about right?
Exploring and discovering new things fuels the imagination and encourages children to ask and answer their own questions.
This fosters a love for learning.
Working together builds unity and bonding.
Using their environment in their story promotes creativity. Can you tell this is a bucket full of treasure?
 Exploring their surroundings through binoculars helps them understand perspective.
 Sitting on shoulders makes them feel big and in charge.
Taking the time to sit down and have conversations on their level increases trust and encourages them to feel heard and loved.
 I loved standing back and watching these two sit back and enjoy their time with one another.
 He couldn't put the binoculars down!
After a great adventure, a child is left feeling loved, heard, and connected .

Give the gift that not only brings out that inner-child but creates memories that will be written on their hearts for years to come.
What else would you put in your "Adventure Box?"
xo.
You can find more of me at: weedstowishes.com
The post Adventure in a Box: The Perfect Gift for Fathers appeared first on How Does She.
23 Non-Casserole Dinners You Can Take To Someone in Needs
Many of us have taken the opportunity to bring dinner to someone else, wether it's a friend who had a new baby, someone who is experiencing grief, or an individual you know who could just use dinner brought to them. Sometimes a gesture as simple as that can mean everything in the world.
I remember when I'd just had my first baby and was on maternity leave from my teaching job. One late afternoon, as I was overwhelmed with a crying baby, a knock came to my door. It was a fellow teacher carrying two bags of groceries, full of precooked meals like rotisserie chicken, a salad mix, and fresh cut fruit. His kind gesture saved me that day, and still makes me emotional thinking about it. He could have easily driven straight home from school to relax from a stressful day, but he didn't.
You may never know what a simple gesture like bringing dinner to someone can mean to them. If you're like me and would love to help, but could use a few good ideas, here are 23 of them!
23 Non-Casserole Dinners You Can Take To Someone Who Needs It
1. Chicken salad croissants
Who says you have to "cook" dinner for someone. Grab the makings of chicken salad croissants, cut up a watermelon, and keep it simple.
2. Fajitas
Saute some steak or chicken with peppers and onions, throw in a few toppings and tortillas and you can easily drop by some delicious fajitas.
3. Meatballs
Meatballs are so versatile and can stay warm in a crockpot until you deliver them. Y0u can serve these easy slow cooker sweet and spicy meatballs with rice or noodles for a comforting dinner.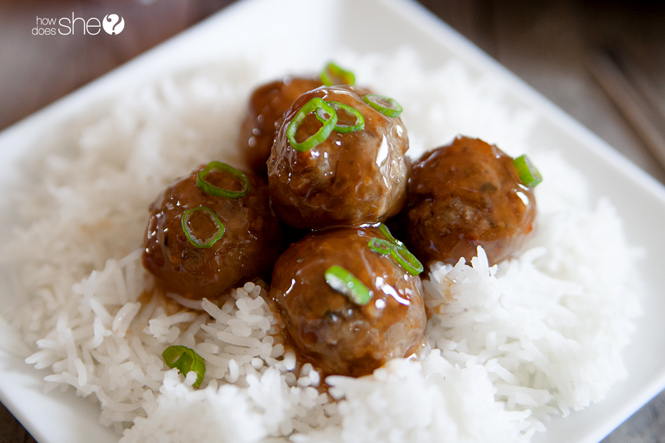 4. Marinated meat to throw on the grill
Marinate some steak or chicken in a freezer bag and deliver to someone who's just had a baby or is going through a stressful time. Include some potato salad and sliced watermelon for a thoughtful touch.
Try this simple, delicious marinade:
1/4 cup olive oil
2 TB soy sauce
1 tsp. Monterey steak seasoning
5. Pulled pork
Pulled pork is another great thing to make in the slow cooker or instant pressure cooker and it makes a great main dish for pulled pork sandwiches or tacos. This is a nice quick pork carnitas recipe for your pressure cooker.
6. A fresh salad with dressing on the side
There's nothing wrong with a casserole, but sometimes a fresh salad feels so refreshing and healthy. A lot of people forget that salads can make great to-go meals for a friend. As long as you keep the dressing in a mason jar on the side, this meal can be kept in the fridge until dinner time.
Here are 3 better-than-store-bought dressings to try!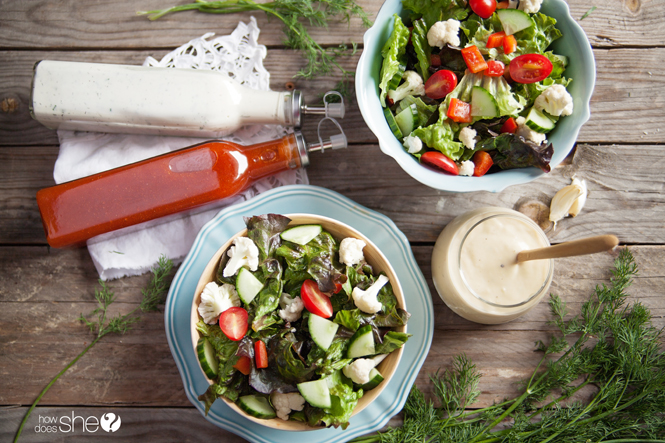 7. Lettuce wraps to go
Another fresh, yummy dish that travels well are lettuce wraps. We love this Easy Peasy version where you can cook the meat beforehand and have plenty left for your own family.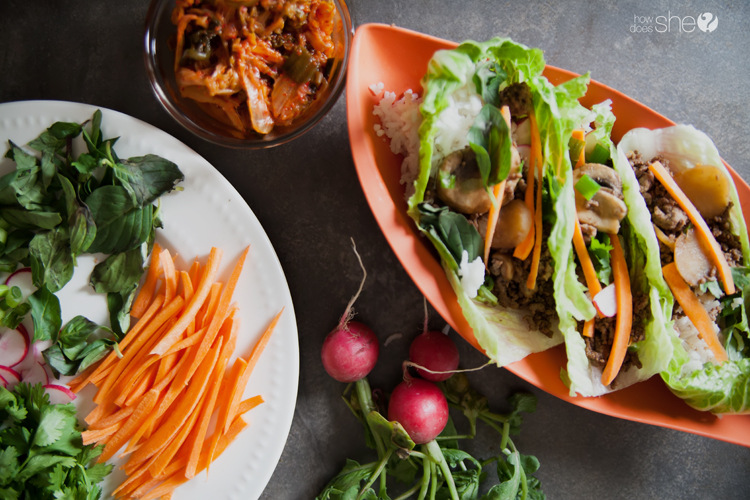 8. Have food delivered from their favorite restaurant.
Nothing beats food from your favorite restaurant when you're down. It's a thoughtful gesture that will be appreciated and remembered for a very long time.
9. Award winning chili and corn bread
As far as comfort foods go, nothing beats a warm bowl of chili with a side of corn bread. It's the epitome of a healing dish. Check out this award-winning chili that is so simple, a child can make it.
10. The makings for a baked potato bar
Wash and wrap some whole potatoes in aluminum foil and bake them at 350 degrees for one hour. Put together the fixings for a baked potato bar: shredded cheese, steamed broccoli, sour cream, and bacon bits. Deliver to a friend.
11. Comforting chicken noodle soup
Chicken noodle soup is the ultimate comfort dish. This homestyle recipe is made with homemade noodles and has been passed down for generations. It makes a perfect dinner to take to new parents or a friend in need.
12. Portable burritos
Big, stuffed burritos are one of my family's favorite meals. Take a large tortilla, pile it with rice, beans, shredded beef or chicken, cheese, etc. Wrap, repeat, and deliver in aluminum foil so that all the recipient has to do is heat them in the oven until warm.
13. Tomato soup so good you'll never go back…
Another great soup to take to a friend is our all-time favorite, homemade tomato soup with roasted tomatoes. This soup is so good, you'll never, ever go back to the canned version. Deliver with breadsticks or French bread.
14. Easy-to-assemble French dip sandwiches
French dip sandwiches are an easy item to take to a friend. Put a rump roast in the slow-cooker with some herbs and spices for 6-8 hours. Try this recipe and deliver for a warm meal.
15. Quick and easy beef gyros
Another great beef recipe to make ahead and deliver are these quick and easy beef gyros with tzatziki sauce.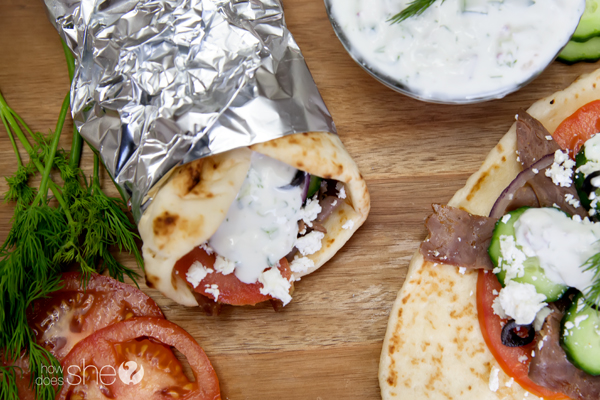 16. Salad in a jar
One of the smartest innovations to come to dinner has been the salad in a jar. Take a few mason jars and get inspired by these 15 Delicious Mason Jar Salads that make life easier.
17. Drop by with a pizza.
We're all busy, and sometimes good intentions are weighed down by a hectic schedule. When that is the case, just drop by with a pizza. Promise, it will be a hit.
18. Mom's hearty chicken and dumpling soup
Hearty soups always hit the spot. Make a double batch of mom's hearty chicken and dumpling soup for another family; they can even freeze half of it for later.
After having my third baby, a friend in the neighborhood brought over this amazing chicken dish that everyone (even my picky eaters) gobbled up. I texted her right away, having to know her recipe. Come to find out, it was this Thai coconut milk grilled chicken over coconut rice and I've made it many times since.
18. Stuffed peppers
Stuffed peppers are both easy and portable and most people forget about them when trying to decide what dish to take to a friend.
19. Easy cashew chicken over rice
I like meals I can prepare in 30 minutes or less. Cashew chicken over rice is perfect for a busy day when you want to deliver a meal to someone.
The post 23 Non-Casserole Dinners You Can Take To Someone in Needs appeared first on How Does She.
20 Mason Jar Crafts to Make and Love!
 I'm in love with Mason jar crafts.  They are simply adorable.  When all decorated up, it really looks like you know what you're doing in the craft department.  Ha!  I think that's why I like them so much!  Read on and you'll see what I mean. So easy yet so adorable!
20 Adorable Mason Jar Crafts You'll Love
1.   Chalky Painted Mason Jars. Aren't these to die for?  I must get me some of this paint!
2.  Beachy Mason Jar Terrarium. Maybe this is what I should do with the sand I brought home from the beach in Mexico 4 years ago? Ha!
3.  Mason Jar Superhero Banks. A fun way to get kids to save their money!
4. Fall Mason Jar Vases.  Could use any word and make several!
5.  A treat for the teacher. DIY Apple Jars. 
6. Mason Jar Sewing Kits.  I think I want to take up sewing just so I can use these!  Perfect step by step directions!
7.  These Silhouette Mason Jars are gorgeous and perfect for any occasion!
8. Mickey and Minnie Money Banks.  An adorable way to save up for your next vacation!
 9.   My kids would love these! Snowman Mason Jar Luminary Ornament.
 10.  Mason Jar Lanterns.  Perfect for enjoying those summer evenings.  Great directions and pictures!
11.  Chalkboard Mason Jar Candle Centerpiece.  So simple to make but looks amazing!
12.  This Beach Inspired Mason Jar Craft doesn't require any trips to the beach, just the craft store.  Although if you need an excuse to get yourself to the beach, then here you go!
13.  The Jingle Bells Jar and other Mason Jar Crafts are so easy I bet even I could make them!  I'm loving all her different types!
14. Have you seen these DIY Pumpkin Mason Jars floating around Pinterest like me?  Here's the step by step.  I'm thinking these would be great for school teachers!
15.  Create a football game party to remember! These Football Mason Jar drinks are easy and just too cute. Can footballs be cute?
16.  What teacher wouldn't love this Chalk Board Mason Jar?  Perfect inexpensive gift! I might have just found my teacher gifts this year!  🙂 Also includes Free thank you printables!
17.  Help the kids know where to put things away in the bathroom with this Bathroom Organization.
18. Who doesn't love seeing their initial in glitter?  These Glitter Monogram Mason Jars would make a great gift for the teenager's friends.
19. Mason Jar Donut Bouquet. Way fun centerpiece!
20.  Do you have Frozen fans at your house? This Olaf Mason Jar is way too cute!
Dig out those Mason jars and get started on the Mason jar crafts you can't wait to make!
Want more Mason Jar Craft ideas?  Check out this great find on Amazon!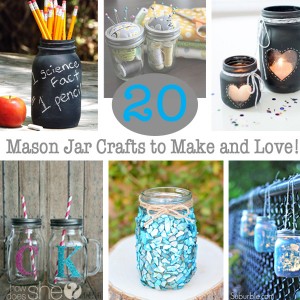 Get using that slow cooker!  You'll love it!
The post 20 Mason Jar Crafts to Make and Love! appeared first on How Does She.
Beautiful DIY Farm-Inspired Porch Swing
*This post is sponsored by Arrow Fastener, a trusted company that has helped fuel our DIY passions for over 90 years.
When I imagine the most perfect summer, I see wispy clouds streaking across a blue sky with a light breeze blowing. I'm swinging slowly in a porch swing while the kids play in the yard. No matter how many versions of my dream I conjure up, there is always a porch swing.
You can make your own fairly easy and this DIY farm-inspired porch swing is both gorgeous and functional. It's sturdy and deep, and the secret is that it uses a crib mattress for the seat. How brilliant is that?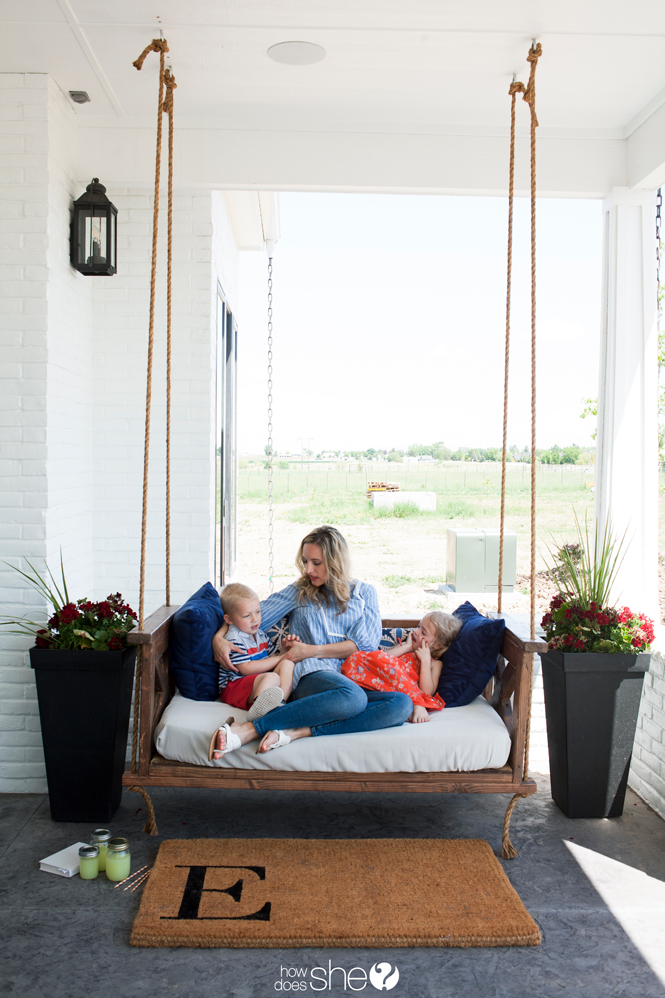 Beautiful DIY Farm-Inspired Porch Swing
My father-in-law has been making these beautiful porch swings that he sells to locals for some time now. We live in Idaho where farmland spans the landscape and stately red barns still dot country roads. If you love the modern farm style, then you'll love this project!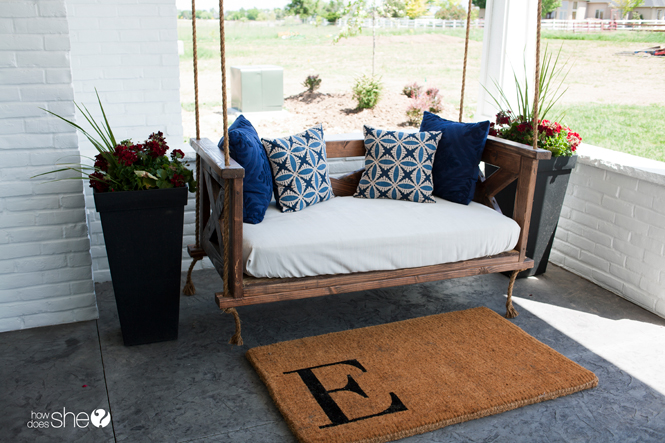 First, a big shout-out to Arrow Fastener tools that help us complete all of our DIY projects, large and small. From their iconic T50 staple gun (which I'm sure you've seen everywhere), to the Arrow T50AC electric nail and staple gun featured in this project, Arrow Fastener has been helping us "put things together" since 1929—that's 90 years!


Supplies Needed:
Skill saw or chop saw
Drill
Sander
(7) 2x4x8 pieces of lumber
(1) box of 2.5-inch wood screws
(1) half-inch 4×8 piece of plywood
(8) half-inch loop eye bolts 4-inches in length (with washers and bolts)
A pint of wood stain
A pint of polyurethane sealant
(1) 1-inch thick rope 25-30 feet long
Crib mattress with dimensions 5.5 inches (H) x 27.25 inches (W) x 51.63 inches (D)
(4) Heavy duty eye bolt screws

Step 1: Cut boards
Since the seat of this porch swing is a crib mattress, this tutorial and lumber dimensions are sized to fit a standard crib mattress approximately 5.5 inches (H) x 27.25 inches (W) x 51.63 inches (D).
Cut all lumber to to following dimensions, paying special attention to the criss-cross pieces that need to be cut at 45 degree angles. (See  sketch below)

Step 2: Set them up in form.
Before you begin fastening the pieces together, first set them up in form. Two side pieces, one back piece, and one bottom piece. It helps to label all cut pieces as "A," "B," and so forth in order to keep everything straight.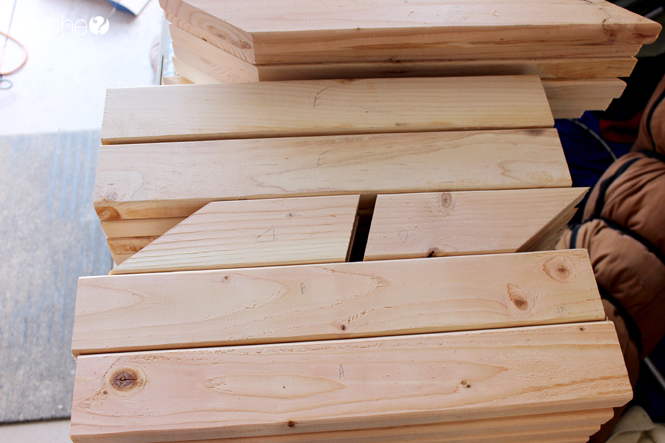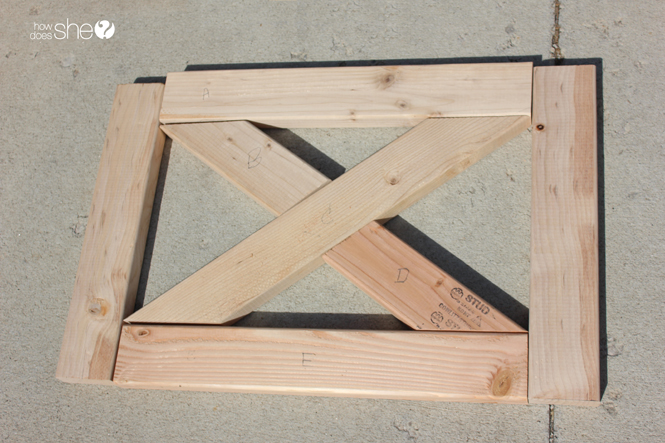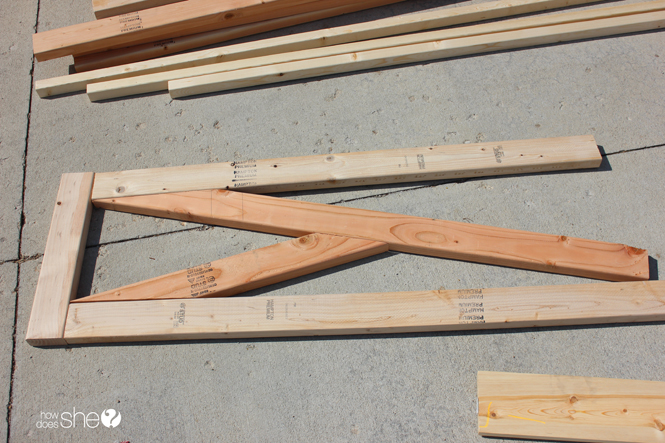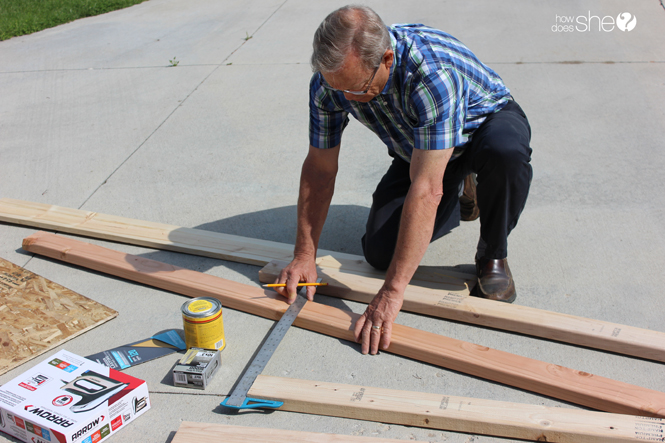 Step 3: Screw all wood pieces together, starting with criss-cross sections.
If you prefer not to see visible screws on your porch swing, use a pocket hole jig to make deeper, angled holes for your screws to go in. This is a simple step that makes a big difference stylistically. It just creates a clean, classy look.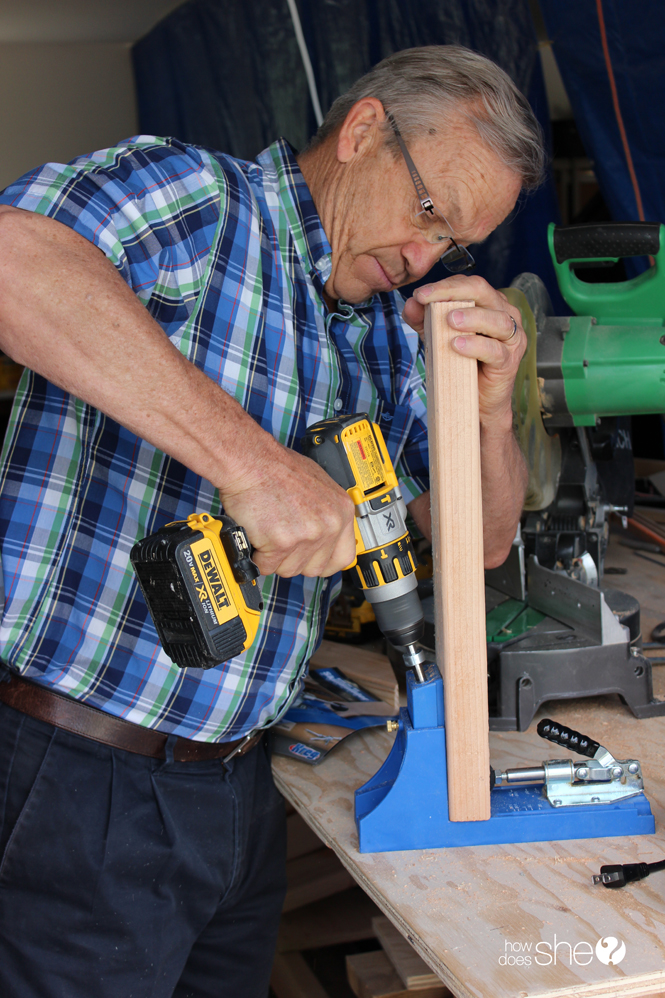 (Below: the angled holes a pocket hole jig will make so that screws aren't exposed.)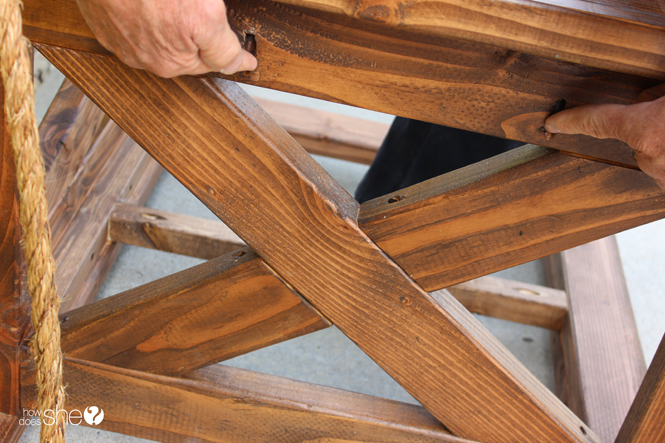 Fasten all wood pieces together according to this pattern (shown above), starting with the criss-cross pieces first.
Step 4: Use a 1-inch drill bit to make holes for the rope.
Since a rustic farmhouse look was what we were going for, we used a 1-inch drill bit to drill eight holes in the 2x4s where the rope will go to suspend the swing.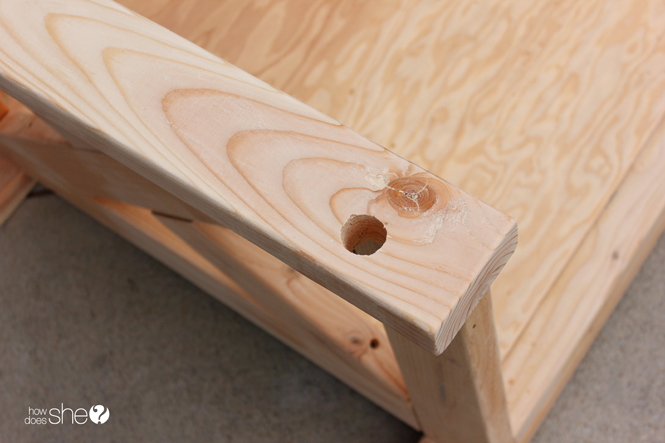 Step 5: Use the Arrow Electric Nail Gun to fasten the bottom of the swing.
The bottom and final piece consists of four 2x2s and one 2×4 in the center for support. Fasten all 2x2s and the 2×4  into place. Next, take the half-inch piece of plywood measured to fit and use the handy Arrow T50 Professional Electric Nail Gun to fasten the plywood to the frame of the swing.
This will be the bottom of the swing and serve as support for the crib mattress seat.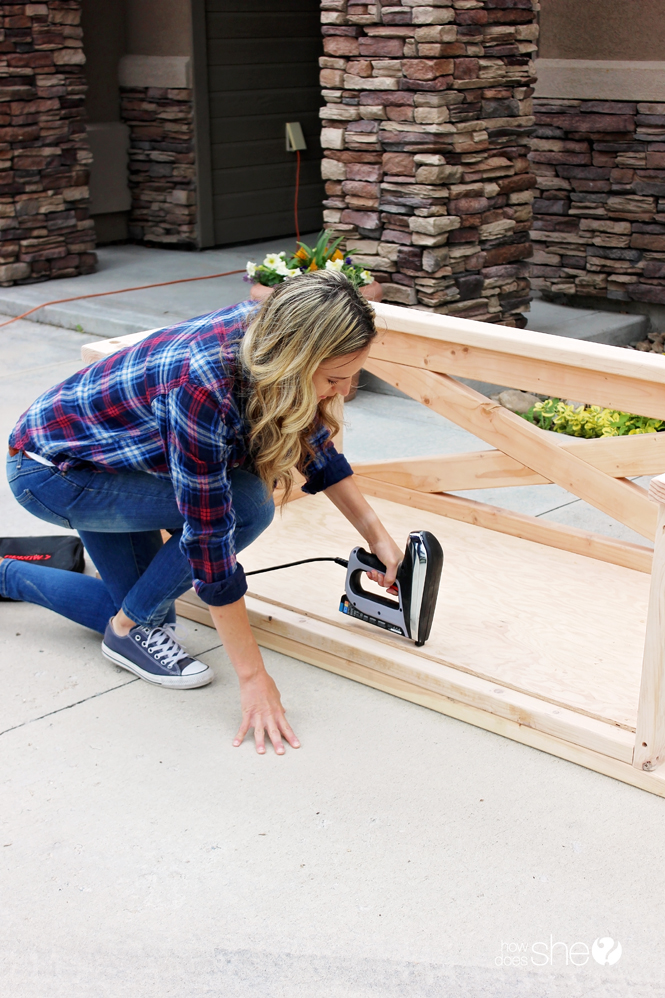 The Arrow electric nail gun is so easy to use. It's such a handy tool to have in your arsenal. To see all Arrow Fastener tools and to get quick video tutorials, check out www.arrowfastener.com.
Step 6: Stain and finish with a polyurethane finish.
Finally, stain your farm porch swing and finish it with a coat or two of polyurethane finish to help protect it from the elements.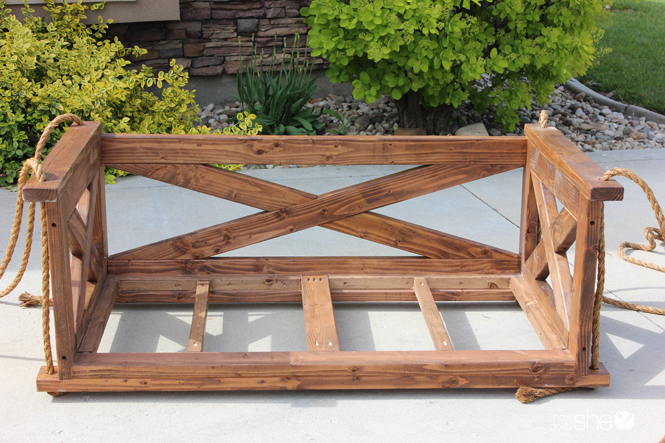 Step 7: Use a crib mattress for the seat.
The genius behind this particular porch swing is that it uses a crib mattress for the seat. It creates a deep swing that everyone can fit in and it is perfectly comfortable seating.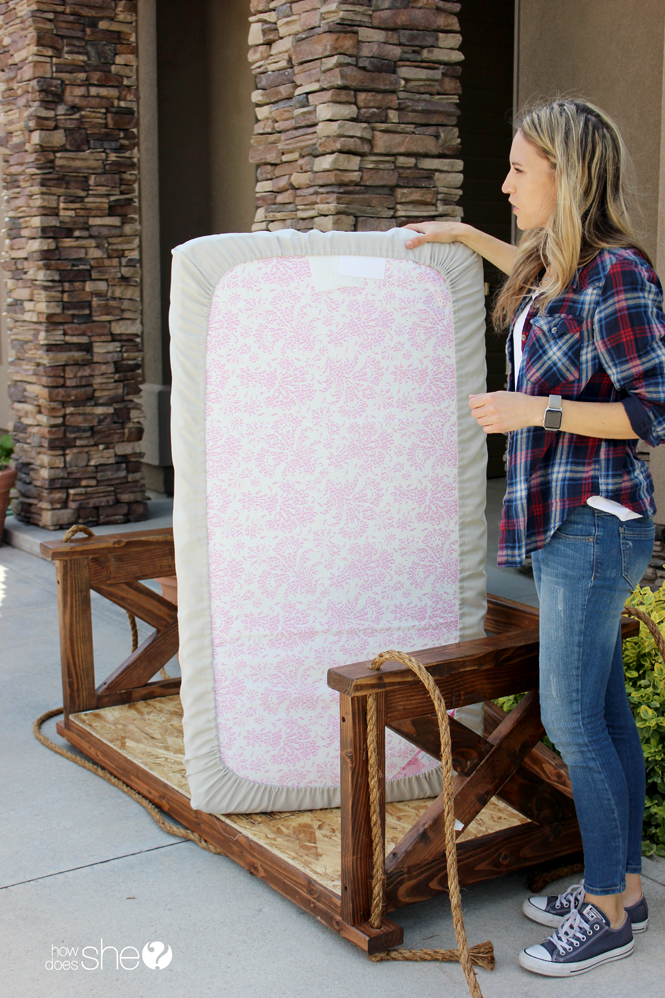 I bought this new crib mattress for $50, brining the grand total for this entire porch swing project just under $200! If you have some of these supplies on hand and an unused crib mattress, this porch swing can be very inexpensive to build.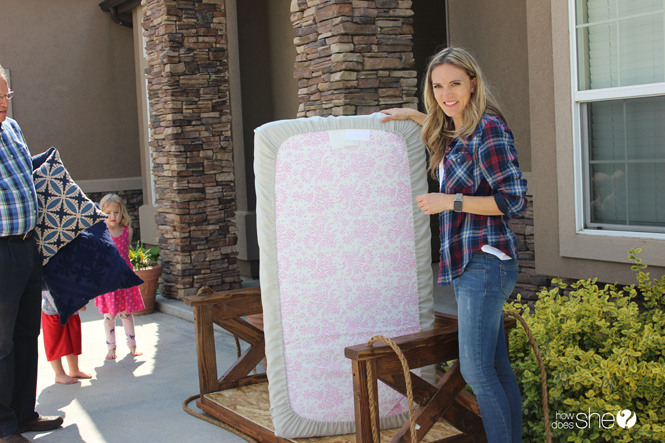 Cover the crib mattress with a sturdy crib sheet, add some pillows, and it's ready to hang!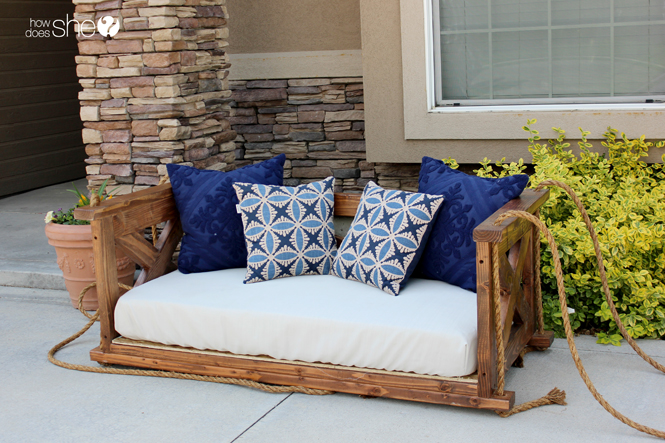 Step 8: A few tips on hanging
Make sure to get heavy-duty eye bolt screws for hanging the porch swing. We also recommend attaching it to a beam if available, something sturdy.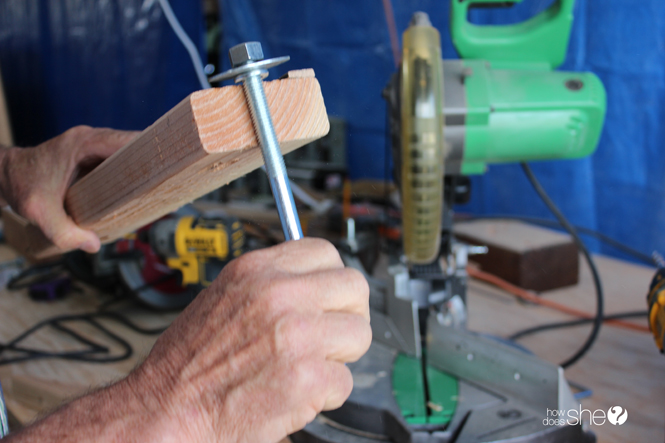 Step 9: Enjoy!
After checking that your new porch swing is securely fastened, grab some lemonade, find a breeze, and enjoy.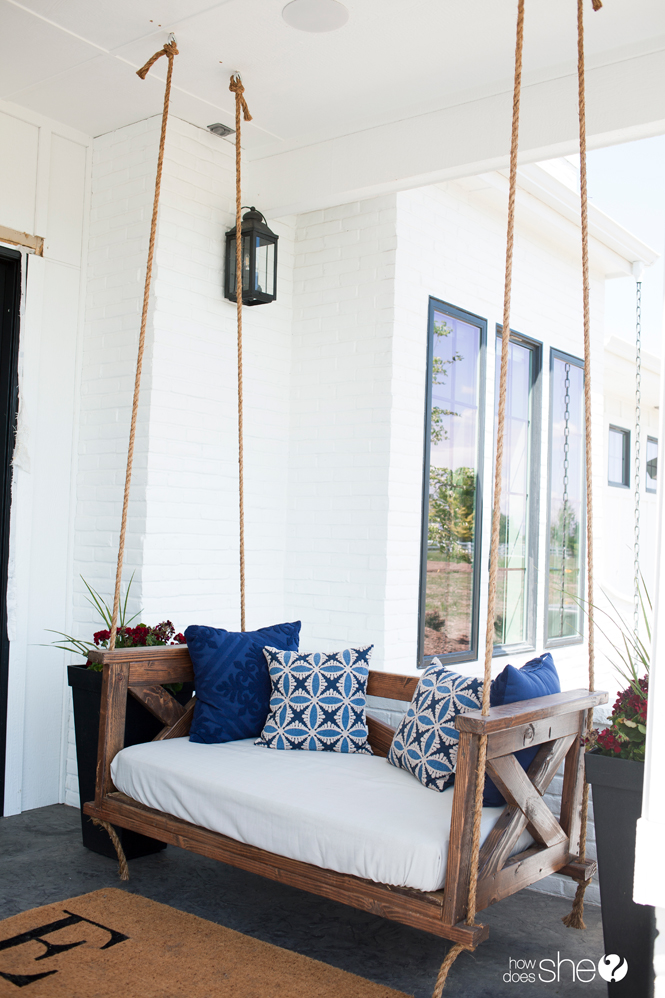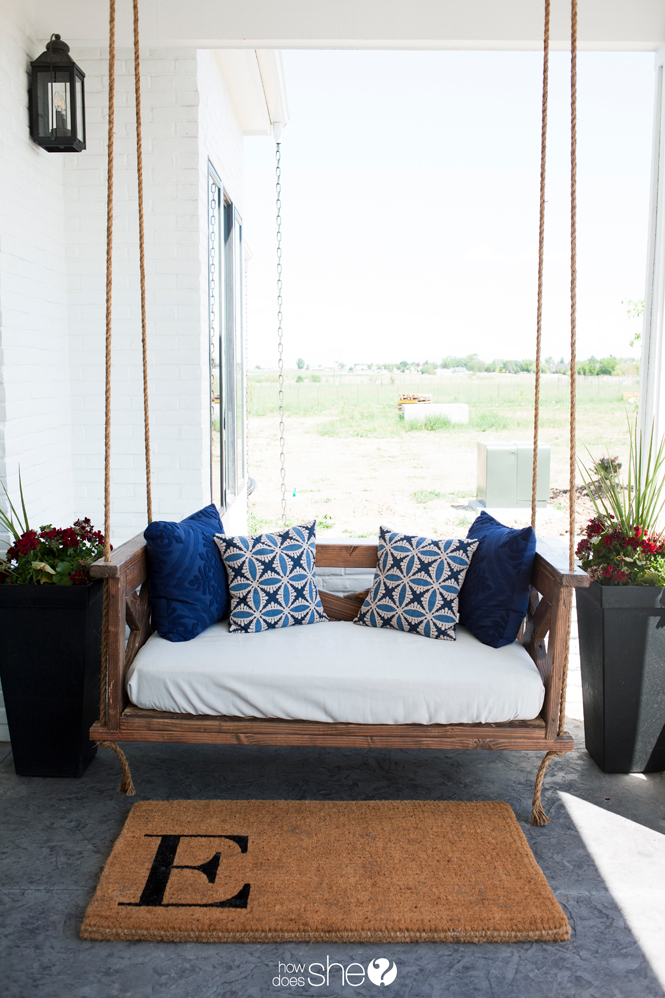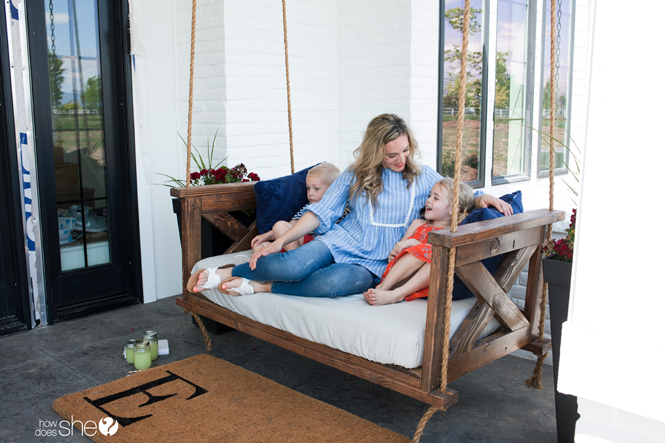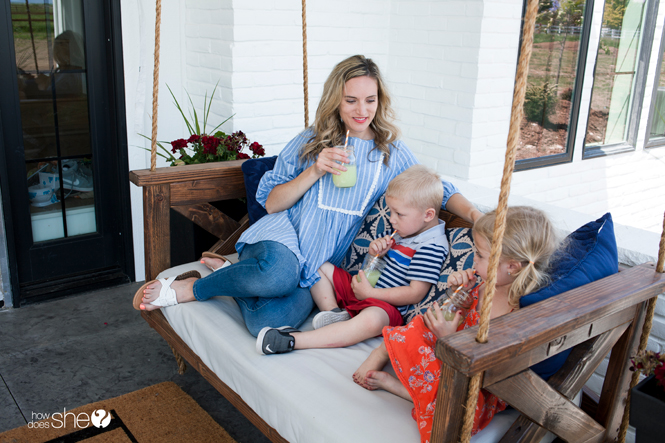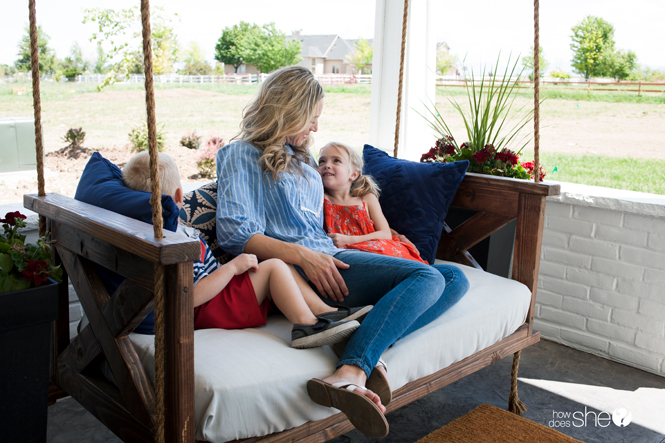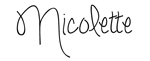 *Thank you so much to Arrow Fastener for sponsoring this post. All opinions are my own. Thanks for stopping by!
The post Beautiful DIY Farm-Inspired Porch Swing appeared first on How Does She.